Registration of overseas entities holding UK property

Following the Russian invasion of Ukraine, the government accelerated the passing of the Economic Crime (Transparency and Enforcement) Act 2022 (EC(TE)A 2022).  
EC(TE)A 2022 requires overseas entities to register with and provide details of their beneficial owners to, the UK Companies House before the overseas entity can be registered as the legal owner of UK land.  
The legislation establishes civil and criminal penalties for various offences, broadens the existing regime for unexplained wealth orders (UWOs) (to include trustees, partners, directors, and others who operate entities holding property in the UK), and establishes a strict civil liability test for sanctions violations.  
Overseas entities (OE) are legal entities that are governed by the law of a country or territory outside the UK, legal entities being corporate partnerships or other entities that are legal persons under that law. Those OE's that already own land had six months from the 1st of August 2022 i.e., 31st January 2023 to register with Companies House and provide details of their beneficial owners or managing officers. New purchasers must obtain the OE ID number from Companies House to register their title with the Land Registry. 
Once an entity is registered with the Companies House, it is referred to as a 'Registered Overseas Entity' (ROE).  
The act could use a revision, some further guidance, and plenty of use cases tying back to the pieces of legislation, particularly Schedule 2. 
The act defines a 'Beneficial Owner' (BO) (para 6) and a 'Registrable Beneficial Owner' (RBO). 
A 'Beneficial Owner' (para 6) is a person that meets at least one of the five control conditions. The tests for determining beneficial ownership are shown in the blue shaded box in Figure 1 and apply to the three types of beneficial owners. 
An (RBO) is either a non-exempt individual, a legal entity that is subject to 'Own Disclosure Requirements' (ODR), or government and public authorities. 
Legal Entities are subject to ODR if their shares are admitted to trading on one of the prescribed stock exchanges, they are a regulated trustee in the overseas country/territory, or they are registered as an ROE in their own right. Notably, only stock exchanges in the USA, Israel Japan, Switzerland and the EEA are on this list. 
Therefore, an RBO may be an individual (non-exempt and meeting one of the five control conditions), a legal entity (non-exempt and meeting one of the five control conditions and subject to ODR), or a government or public authority. Refer to Para 2,3 and 4 of Schedule 2 of the Act. 
Figure 1 shows the various types of RBOs that may be interested in the UK land-owning ROE. In the case of an incorporated trust, partnerships, or associations, we should look through the individuals to determine beneficial ownership.
Individuals and legal entities (persons) may be exempt from RBO under Para 8 if they hold an indirect interest in an ROE through one or a chain of several legal entities connected by 'majority stakes' and where the legal entity closest to the ROE has beneficial ownership (i.e., meets at least one of the five control conditions) and at least one of the legal entities is subject to ODR.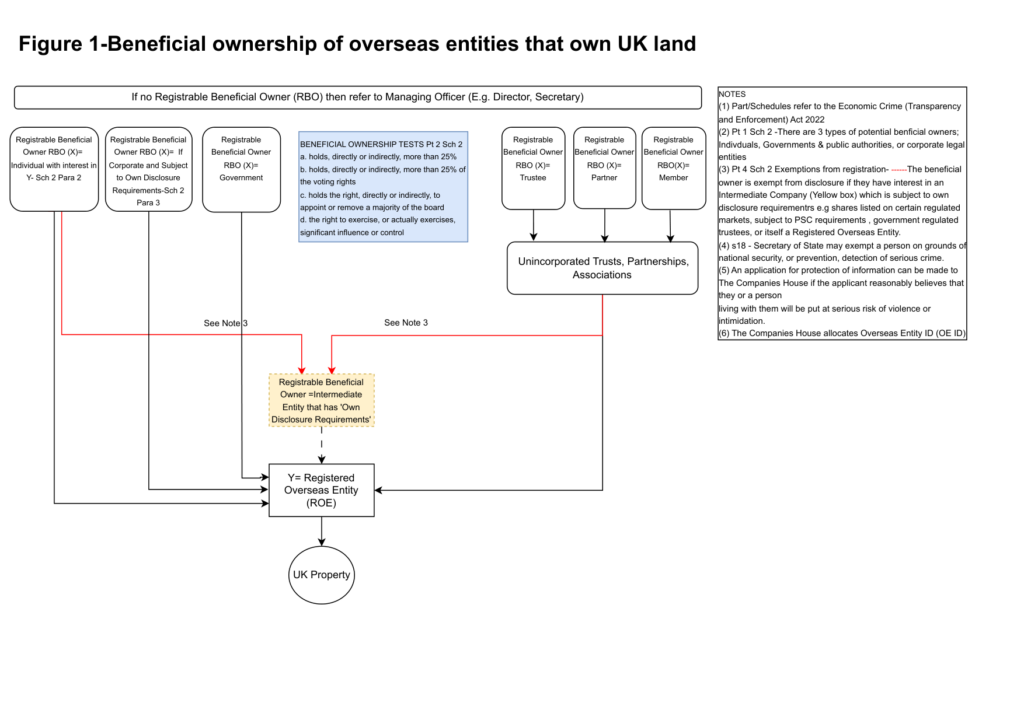 Disclaimer 
The information and materials provided here are for general informational purposes only and do not constitute professional advice. The author makes no representations or warranties of any kind, express or implied and disclaims any liability for loss or damages, direct or indirect, arising from the information herein. Any reliance you place on such information is strictly at your own risk. Professional advice should always be sought and obtained before making any decisions or taking any action based on any information provided.  

Haroon Rafique
Haroon, actively contributes to the field of accountancy, tax, finance, and economy through his articles, he leverages his expertise to provide valuable insights and analysis to readers. By sharing his expertise, Haroon aims to educate and empower individuals, businesses, and organizations to make informed decisions in these complex and ever-evolving areas.