Professional Business Plan Writing
At Meer & Co we specialise in supporting businesses to write a business plan which propels you into the spotlight in what is often a fiercely competitive stage of business growth, namely, accessing vital external capital investment.  It's time to look to putting your business plan writing in the hands of professionals who have already helped hundreds of businesses like yours succeed in successfully accessing essential capital.
A well-written business plan that concisely, precisely, and fully explains your company's goals and methods of operation is a basic requirement to obtain funding.
It is essential that your business plan presents investors and / or loan officers with what they need to see and in the proper format. It is also crucial to understand which type of financing best fits your business and personal goals in order to target your business plan to the appropriate audience.
A complete business plan should include
• Discussion of industry background
• Analysis of industry trends is your market growing or shrinking.
• Detailed financial projections
• Monthly cash flow and income statements
• Annual balance sheets for at least three years ahead
Financial Forecast
From £500
• Initial Consultation
• Questionnaire
• Monthly Financial Forecasts
• Standard Support
• 2 Changes
• Weekly Financial Forecasts as Extra
Advanced
From £1500
• Initial Consultation
• Questionnaire
• Monthly/Weekly Financial Forecasts
• Financial Ratios/KPIs
• Desktop Market Research
• Desktop Business and Marketing Plan
• Standard Support
• 3 Changes
Bespoke
Quote Over the Phone
• Initial Consultation
• Questionnaire
• Monthly/Weekly Financial Forecasts
• Financial Ratios/KPIs
• Market Research
• Detailed Business and Marketing Plan
• Standard Support
• Priority Support
• Pitch Deck
• 5 Changes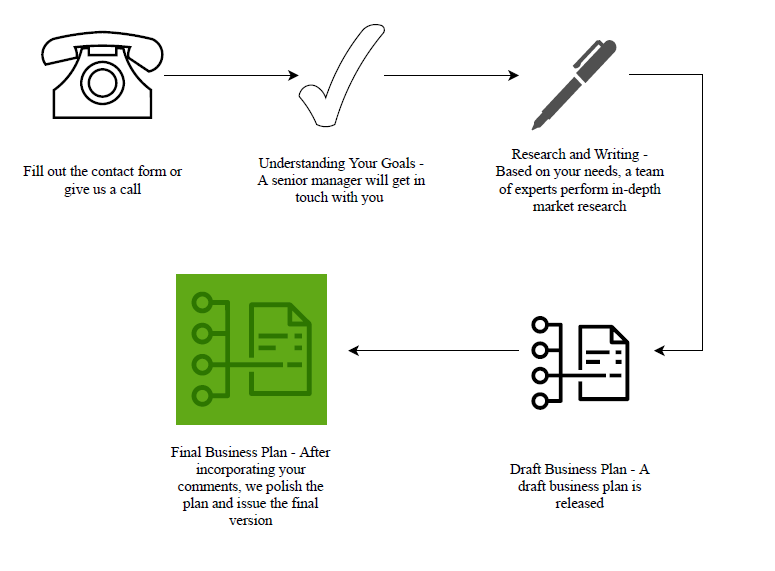 We understand that a good business plan is vital to securing precious funding from investors.  You can rely on our experienced team of professional experts to provide you with the plan that will make your business stand out.
Meer & Co expertise and experience includes:
market potential reports
feasibility studies
business plan writing
grant & competition applications
fund-raising for large, medium, and small entities
We also help international entrepreneurs with migration visa business plans and UK investment opportunities.
You will be fully engaged in all aspects of the development of your business plan throughout the process of writing your business plan.  Our experts work very closely with you during the process to ensure you have a complete understanding of the final document and process and that what we produce is suited to your business needs and optimises potential for success in achieving investment.
Do I need a business plan?
The short answer to this is, yes. Instead of seeing a business plan as a chore, it's an opportunity to lay out the way your business will grow over the years and gives insight into how your organisation is performing in the present, and how it can develop in the future. It's also essential to show potential investors and partners the plans you have for growing and puts forward a much stronger case than words alone.
Should I hire someone to write my business plan?
There's nothing wrong with asking for consultation when putting together your plan, but writing your own business plan has many advantages. It not only gives you the chance to show your passion and personality, but is also a good exercise for appraising your business and really getting to know your strengths and weaknesses as an organisation. If you aren't confident about your writing skills, get a draft down and then ask someone to help you refine and rewrite it.
How long should a business plan be?
There is no right or wrong answer to this question – a business plan can be anywhere from 10 to 100 pages long (although we recommend keeping it shorter so your audience doesn't lose interest). It mostly depends on the purpose of the plan, and who the audience is. If it is an internal business plan, you can exclude certain areas and only focus on the essentials such as implementation. If you are presenting to new investors, the plan is likely to be longer as you will be outlining the business as a whole together with your present situation and plans for the future.
What sections will be included in the business plan?
Business plan structures vary depending on the needs of the client. All documents include the following key sections: market analysis, description of the business model, operational strategy, goals, financial model, etc.
Do we 100% guarantee that our business plan will lead to successful fundraising?
We guarantee that the business plan we prepare for you will comply fully with requirements of Investors/lenders. However, we are not responsible for the success of your fundraising efforts—there are simply too many factors that we cannot control (e.g., your credit score, relevant experience, etc.)
"We deal with high-value items and a lot of moving parts and having management information on tap is extremely important to our bottom line and these guys make it possible."
"It's important in our industry to understand outflows and have information at your very fingertips. I can't recommend highly enough."
"Great bunch of guys, very prompt and courteous and a can-do attitude."